PLM for Apparel Industry is a Strategic Imperative to Remain Competitive
Last month, trade magazine Apparel published its ninth annual report on PLM for apparel industry and the benefits of using PLM technology.  Produced in collaboration with IT research firm Gartner, Inc. and based on data from their annual surveys of apparel retailers and manufacturers, these reports offer tremendous insight into the proven benefits of PLM for apparel industry.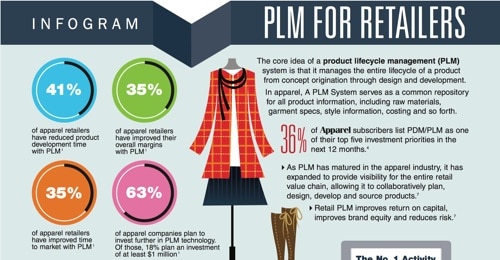 38% have reduced product development time
19% have improved overall margin
29% have reduced total lead time
24% have achieved faster time to market
29% have reduced inventory
14% have seen other improvements to the bottom line
The 2014 survey also indicates that 50% of apparel companies plan to make further investments in PLM.  Of that group, 78% intend to act within the next 6-18 months.
Further evidence of the growing use of PLM

by

apparel companies is depicted in the compelling

infogram

"PLM for Retailers", posted earlier this year by manufacturing technology solutions provider PTC.
In addition to retailer-specific data, PTC's infogram also presents the following statistics for the apparel industry's retail and manufacturing companies:
45% of apparel companies have already implemented PLM
18% of apparel companies plan to implement PLM by mid-2015
Among those planning to implement PLM, 43% expect to purchase a packaged application from a software vendor.
Why is PLM a competitive necessity in today's apparel manufacturing industry?  The answer comes from understanding PLM's capabilities and its potential impact on your business:
PLM facilitates efficient collaboration among all stakeholders through all phases of product design and development, leading to faster product cycle times and reduced time to market.
PLM provides a single, shared source of product data, enabling real-time updates and eliminating communication

lags

, data inconsistencies, and the need for data duplication and distribution.
PLM manages the requirements for domestic and international regulatory compliance, ensuring that products and manufacturing processes meet or exceed increasingly complex guidelines for product safety, worker protection, environmental safeguards, etc.
PLM increases the visibility of product development cost components and resource allocations, enabling management to make adjustments and reduce costs as needed.
PLM provides automated and fully-integrated support for:
Seasonal calendar management
Product ideation and design
Merchandising and line planning
Color definition
Materials designation and testing
Product specification management and change tracking
Sample management
Supply chain management
Product sourcing
Cost modeling
Quality control
When considered together, PLM's tangible benefits and growing user base should serve as a wake-up call for the 55% of apparel manufacturers who have not yet implemented an automated PLM solution!
If your business is ready for PLM, we recommend that you utilize a PLM software package tailored to the needs of apparel manufacturers and work with an experienced PLM specialist to define functional requirements, configure your customized system, and train users.
For additional information on how Zweave assists companies in the apparel industry with all aspects of PLM system implementation, please download our whitepaper "15 Reasons to Choose Zweave for Your PLM Project".